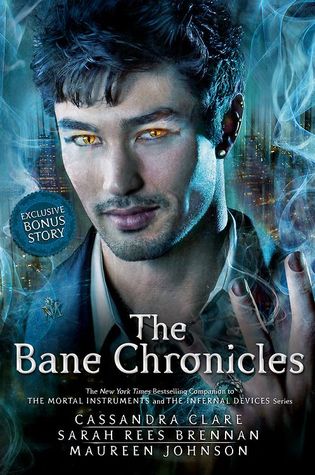 Title: The Magnus Bane Chronicles
Author: Cassandra Clare, Sarah Rees Brennan and Maureen Johnson
Published by: McElderry Books
Publication Date: 11th November 2014
Pages: 528
Genres: Teen/YA Fiction/Fantasy/Mystery/Shadowhunters
Book Blurb:  It's not easy being Magnus Bane. As a warlock, he's often called upon to fix problems of others. His life has been long, and his loves have been many, and Magnus has a way of making sure he's at the right place at the right—or perhaps wrong—time. The French Revolution, Prohibition, the first great battle between Valentine and the New York Institute… Magnus was there. But smuggling Marie Antoinette out of France is nothing compared to having a first date with Alec Lightwood.
Though Magnus' tale is far from over, these stories shed a little light on his often inscrutable character. What happens when an immortal warlock goes mad? Are all Herondales as problematic as Will? (Answer: yes.) And why was Magnus banned from Peru?
Magnus will never be able to tell all of his tales. No one would believe him. But here are eleven stories that fill in some of the blanks—stories he probably wishes had never gotten out.
Review:
I was actually crazy enough to think about writing a review for each separate story but that would be eleven individual reviews. I, like many other fan-girls out there, have anticipated this book for months. I know it's been released separately as eBooks but… Well first of all I try to avoid eBooks and use my local book store as often as possible, secondly, it's so shiny! The cover is awesome with Godfrey Gao (Taiwanese actor and model) on the front cover. He portrayed Magnus Bane in the movie and I wish he could be Magnus in the TV show but that's unlikely.
Anyway, each story was written by a combination of the three writers, giving us glimpses into Bane's past. Magnus' back stories were super interesting, comedic and magical; they also showed glimpses into shadowhunter history as well (at least the parts that involved Magnus).
This book was simply an amazing companion novel to the Mortal Instruments and Infernal Devices. It all links up beautifully and if you have read either of those series then I thoroughly recommend reading this. If you have not read TMI or TID then I still recommend reading it but there will be points you won't get because the whole world isn't introduced again as this was written for those who already have a great background knowledge into the world.